Section Counter
Join our Adventures
Many Ways To Have Fun
Our fleet includes:
Safest spot home to flat and shallow
section-7c16736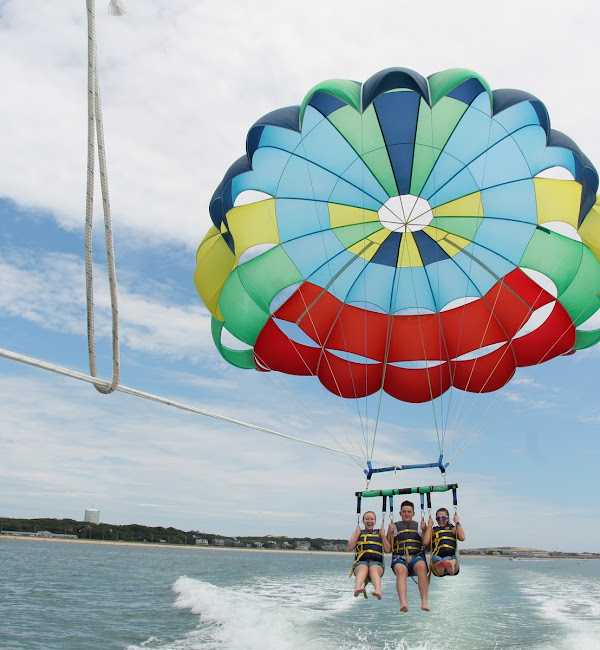 Parasailing
When you are looking to parasail in Provincetown, MA, let Provincetown Parasail provide you the great heights you want to experience. Our parasailing rides are exhilarating and an experience unsurpassed by any other recreational outdoor activities in the harbor. Experience the joys of flying high above the Provincetown Harbor and rest assured that our experienced captain can take you through the ride without a hitch.
All participants are safely harnessed in to ensure their safety and all our boats are manned by licensed captains. We have options for triple harnesses for kids to go up together, as well as double harnesses for couples and pairs. We recommend contacting us directly at (857) 423-9467 for more information on how we may provide for your group. Our parasailing company works to ensure that everyone is having a good time and have an amazing experience. We guarantee you, your friends, and family will have fun!
We look forward to providing you the thrilling, extreme sports you and your loved ones deserve. To learn more about our parasailing ride service, contact Provincetown Parasail in Provincetown, MA today!
Book Now
Jetski Rentals
Don't leave the beach without taking one of our top-of-the-line Jetski for an exhilarating spin! Be your own captain as you race along Cape Cod's world-famous coastline, the perfect way to get your heart pumping. We offer jet ski rentals at multiple locations throughout Cape Cod. Choose a location from the drop-down menu on the right for more information.
Book Now
Boat Rentals
Be your own skipper or hire a captain. Whether you want to make your own waves or kick back and relax, we've got you covered. We're focused on providing a fun and safe boat rental experience, so let us help personalize your outing to match your preferences and expectations.
We have a large fleet of luxury, sport, and super boats available for daily and extended-term charters. So whether you want to have some fun with family and friends, go on an intimate sunset cruise, host a luxury party or get away on vacation, our charters offer the perfect tailored experience.